Korg Kross 2 88-Key Performance Synth Workstation
More features, more sounds, more possibilities.
A state-of-the-art platform with ever greater functionality. 
The mobile synthesizer workstation that does everything. 
 
KROSS 2, the long-awaited successor of the KROSS, is a compact, portable workstation with a huge range of sounds. While maintaining its identity as ultra-lightweight, compact, and capable of running on batteries, this new model dramatically enhances KROSS's sounds and functionality. In addition to a total of more than a thousand preset sounds, expansion PCM memory has been newly added. Also new is a pad sampler that allows full-fledged sampling, and USB audio/MIDI interface functionality. The color scheme is even more stylish, and the user interface allows intuitive operation even by beginners. 

Effortlessly select the sound that you want to play, shape it to match your imagination, sample a sound, create phrases and rhythms, record your vocal or guitar, bring KROSS 2 on stage, and perform. Whatever you artistic vision, you can make it happen. KROSS 2 is a versatile synthesizer platform made with creative freedom in mind.
Even more powerful preset sounds, with specialized optional expansion sounds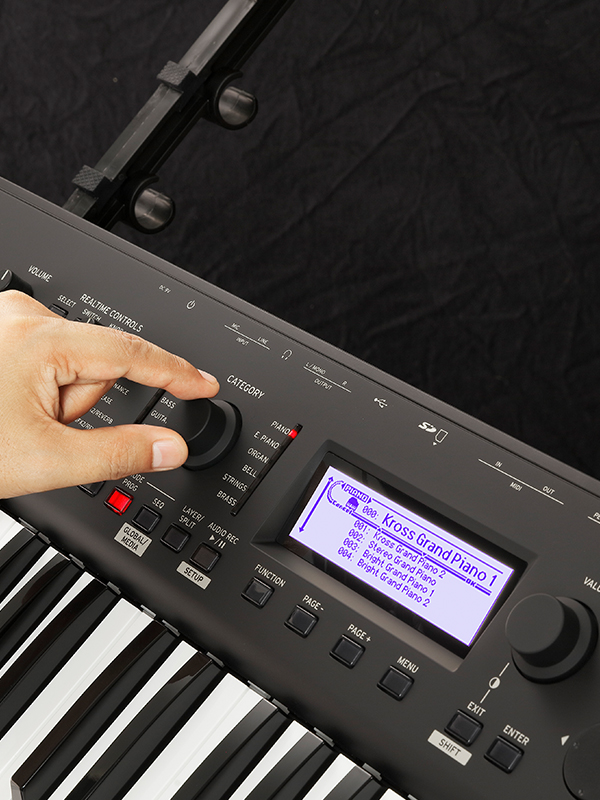 A rich variety of more than 1,000 preset sounds
The sound quality of KORG synthesizers is endorsed by top-ranking musicians around the world. The evolved KROSS 2 expands polyphony from 80 to 120 voices, and dramatically powers-up the number of internal programs from 809 to 1,075 programs. Including multi-layered pianos and electric pianos, thick strings and other new sounds that will work well with any band, as well as the latest drum kits to cover current styles such as EDM. The wide selection of programs covers your needs from live performance to studio production.
Built-in expansion PCM memory, and support for optional libraries
The KROSS 2 now provides 128 MB of built-in expansion PCM memory. By selecting from optional libraries that will be released following KROSS 2, you can expand KROSS 2's internal sounds to meet the needs of your performing style or situation.
The rich expressive power of the EDS-i sound engine, with a full complement of effects
The high-quality EDS-i Enhanced Definition Synthesis-integrated sound engine is inherited from KORG's professional synthesizers. You can use a total of seven effects units simultaneously: five insert and two master. Rich expressive power is available from the selection of 134 high-quality effects, including standard effects such as delay and reverb as well as amp modeling, vintage effect units, and even a vocoder.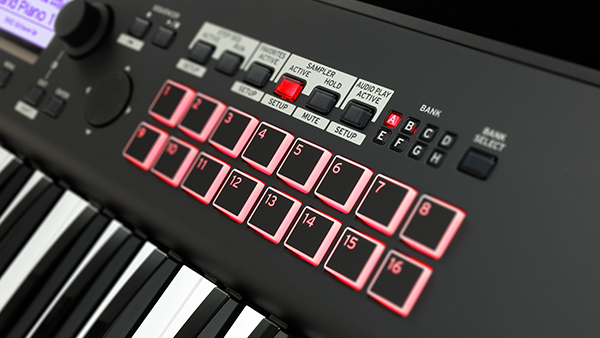 As a first in its class, the KROSS 2 is newly equipped with a unique sampling function that provides 16 playable pads. You can record the input from the LINE IN jack and assign a stereo sample of up to 14 seconds to each pad. Up to four pads can be triggered simultaneously. You can edit the sample waveform using functions such as start/end loop point settings and normalize, and even resample within the KROSS 2, allowing you to perform extensive sampling without requiring any additional equipment. Long audio files from an SD card can also be assigned to these pads.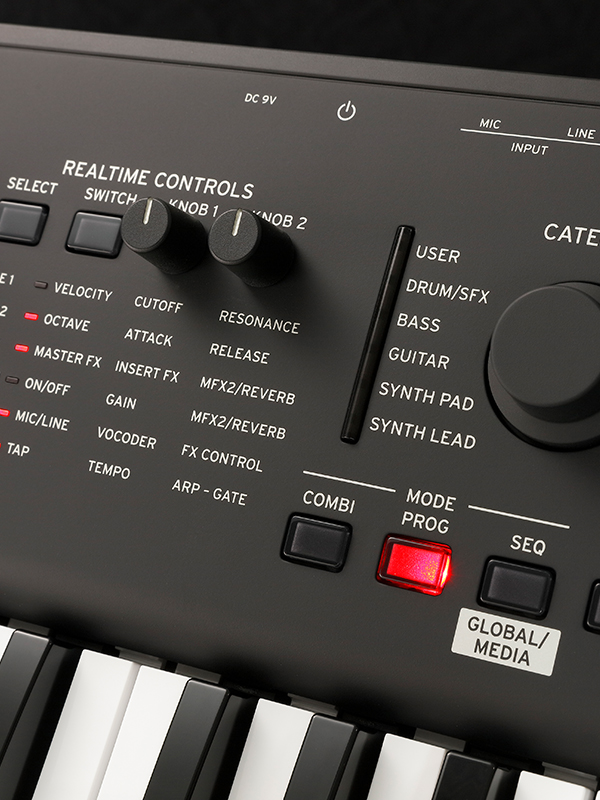 It's easy to get around on KROSS 2, thanks to a user-friendly layout. The panel of the KROSS 2 has been further improved since the first KROSS, ensuring that anyone can quickly access desired sounds and functions from the enormous range of choices.
Realtime control section
The new realtime control section lets you directly control KROSS 2's main parameters without having to navigate through a menu hierarchy. In addition to realtime control of the sounds and effects, and simple editing of programs, you can use the knobs to easily control the vocoder settings or adjust the tempo of the arpeggiator and sequencer.
Favorites function
The favorite function lets you register frequently-used programs and combinations and recall them at a single touch, and has even been expanded to allow 128 favorite locations, twice the number of the first generation of KROSS. This function is ideal for live players that need quick access to a specialized set of sounds on stage.
Quick layer/split
The layer/split function, which lets you layer two sounds or assign separate sounds to the left and right regions of the keyboard, is now easier to set up, thanks to a dedicated quick layer/split button.
Category dial
A category dial is provided, allowing you to immediately find the sounds you're looking for amid the vast range of choices. Just choose the general type of sound, such as piano or organ, and then make your selection quickly and efficiently.
Why buy from Melody Music Shop, LLC?
Located in Bloomington, Indiana, Melody Music Shop strives to maintain a diverse, high quality inventory along with exceptional customer service. We carry a wide range of instruments and accessories, including new and used guitars, band and orchestral instruments, pianos, amps, sound systems, and so much more!
With certified technicians on staff and a century + of experience between them all, you can rest assured any instrument you purchase from Melody Music Shop LLC is in the best condition possible! Our ENTIRE STORE is maintained at 50% humidity year round per manufacturer's stringent requirements. All items will be packaged carefully to ensure their safe arrival. Guitars will have their string tension lowered and packaged to manufacture specs or better. Melody Music Shop LLC guarantees quality products, fast shipping, and top-notch customer service!
Please contact us if you have any questions!
Layaway is an option!
Layaway items require an initial down payment of 25%.
Layaway items can be held here for up to 90 days
A payment of 25% (or more) is due on the 30th, 60th, and 90th day from the
layaway start date (although payments may be made before the scheduled due date).
The item will ship immediately following payment in full, which may be before the 90 day layaway period.
There are no returns on layaway items. There are no refunds of payments towards a layaway item.
Please contact us with any further questions regarding our layaway policy!
Shipping
Items purchased from our store will ship out within 1 business day of receiving payment. FedEX Ground or Home Delivery, fully insured, will be used for shipping instruments and large items. Items over $200 will require a signature. Accessories and other small items will be shipped via USPS Priority Mail.
Payment
Paypal
We accept PayPal and will only ship to confirmed ship-to addresses listed on the PayPal account.
Credit Cards
We accept Visa, Discover, Mastercard, and American Express. The shipping and billing address must match in order for us to ship the item to that address.
Payments via Reverb are safe and secure too!

Thank you for looking :)