Ibanez AFC95NTF Contemporary Archtop 6str, Natural Flat 079 6lbs 7.9oz USED
* Pictures Are of Actual Guitar! *

Serial Number: PW19030079
Weight: 6 lbs, 7.9 oz
Year: 2019
We have listed this item as used when in fact it is an open-box item that has been used temporarily as a demonstration piece. Being a used item, it may have some minor play wear in the form of light pick scratches or dings (some of which are impossible to capture in photographs but we've done our best to do so with today's technology).  Rest assured, we have attempted to disclose any known imperfections to the best of our ability and the instrument will still perform as intended.  Most instruments would pass for brand new from other shops.  If you want a brand new one in a factory sealed box, let us know because we can do that too! :)
SPEC
neck type - AFC / 3pc Nyatoh/Maple / set-in neck
top/back/side - Spruce top / Flamed Maple back / Flamed Maple sides
fretboard - Bound Ebony / Acrylic off-set block inlay
fret - Medium frets
number of frets - 20
bridge - Ebony bridge
tailpiece - VT14 tailpiece w/AFC wood cover
neck pickup - Magic Touch-Mini(H) neck pickup (Passive/Alnico)
bridge pickup - Magic Touch-Mini(H) bridge pickup (Passive/Alnico)
factory tuning - 1E,2B,3G,4D,5A,6E
string gauge - .011/.015/.022w/.030/.040/.050
hardware color - Gold
NECK DIMENSIONS
Scale - 628mm/24.7"
Width - 43mm at NUT
Width - 56.3mm at 20F
Thickness - 21mm at 1F
Thickness - 24mm at 9F
Radius - 305mmR
Features
Ebony bridge
The rock solid Ebony compensated bridge give the output a clear intonation, longer sustain and acoustic resonance.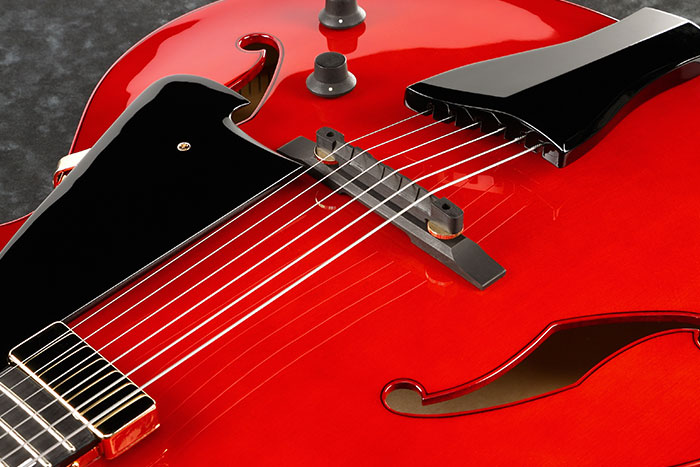 AFC Specially designed Tailpiece cover/Pickguard
AFC Specially designed Tailpiece cover/Pickguard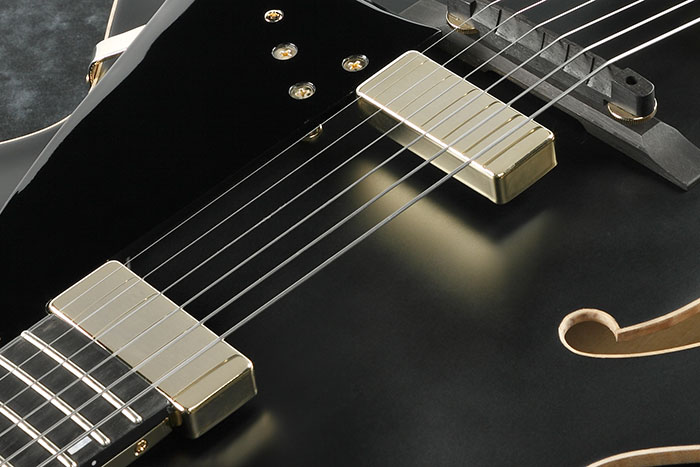 Floating pickup
Thanks to floating mount, the "Magic Touch-Mini" pickups do not dampen the guitars natural body vibration, thus allowing a bigger richer acoustic tone.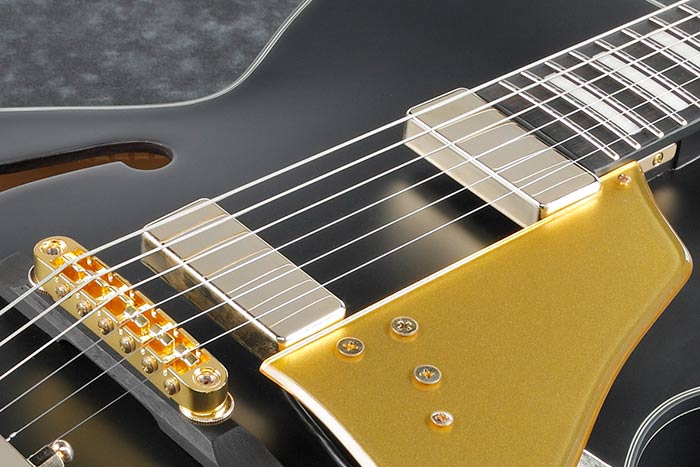 Magic Touch-Mini pickup
The Ibanez custom made Magic Touch-Mini humbucker pickup provides a balance of classic tones, alongside clear articulation on both the top and bottom of the sound spectrum. Players can enjoy the clean response on the top end, presenting fast melodies or complex chord progressions with clarity and precision.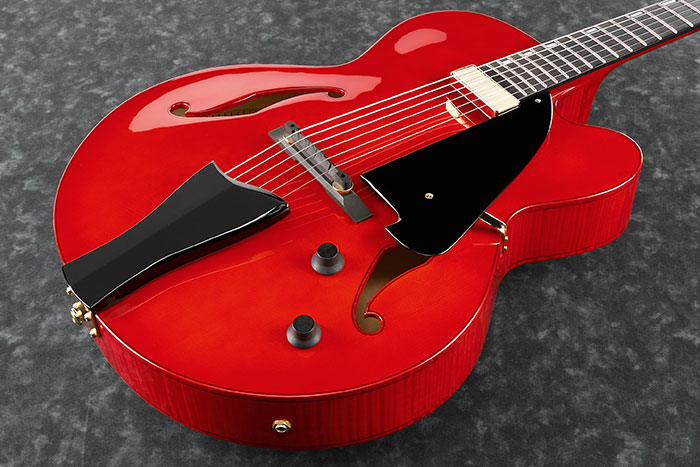 Spruce top/Maple back & sides body
As well as providing its stylish appearance these features help provide a balanced tone, and with the addition of plywood top, help to avoid unnecessary feedback.
Why buy from Melody Music Shop, LLC?
Located in Bloomington, Indiana, Melody Music Shop strives to maintain a diverse, high quality inventory along with exceptional customer service. We carry a wide range of instruments and accessories, including new and used guitars, band and orchestral instruments, pianos, amps, sound systems, and so much more!
With certified technicians on staff and a century + of experience between them all, you can rest assured any instrument you purchase from Melody Music Shop LLC is in the best condition possible! Our ENTIRE STORE is maintained at 50% humidity year round per manufacturer's stringent requirements. All items will be packaged carefully to ensure their safe arrival. Guitars will have their string tension lowered and packaged to manufacture specs or better. Melody Music Shop LLC guarantees quality products, fast shipping, and top-notch customer service!
Please contact us if you have any questions!
Layaway is an option!
Layaway items require an initial down payment of 25%.
Layaway items can be held here for up to 90 days.
A payment of 25% (or more) is due on the 30th, 60th, and 90th day from the layaway start date (although payments may be made before the scheduled due date).
The item will ship immediately following payment in full, which may be before the 90 day layaway period.
There are no returns on layaway items. There are no refunds of payments towards a layaway item.
Please contact us with any further questions regarding our layaway policy!
Shipping
Items purchased from our store will ship out within 1 business day of receiving payment. FedEX Ground or Home Delivery, fully insured, will be used for shipping instruments and large items. Items over $200 will require a signature. Accessories and other small items will be shipped via USPS Priority Mail.
Payment
Paypal
We accept PayPal and will only ship to confirmed ship-to addresses listed on the PayPal account.
Credit Cards
We accept Visa, Discover, Mastercard, and American Express. The shipping and billing address must match in order for us to ship the item to that address.
Payments via Reverb are safe and secure too!
Thank you for looking :)