Ibanez THBB10 Tim Henson Signature 6str Electric Guitar w/Bag S/N 1190412313
Year: 2019
Serial Number: 1190412313
SPEC
neck type - AZ Oval C Roasted Maple neck
top/back/body - American Basswood body
fretboard - Roasted Maple fretboardAcrylic & Abalone block inlay
fret - Jumbo Stainless Steel frets
number of frets - 24
bridge - Gotoh® T1502 tremolo bridge
neck pickup - DiMarzio® Notorious™ (S) neck pickupPassive/Alnico
middle pickup - DiMarzio® Notorious™ (S) middle pickupPassive/Alnico
bridge pickup - DiMarzio® Notorious™ (H) bridge pickupPassive/Ceramic
factory tuning - 1E,2B,3G,4D,5A,6E
string gauge - .010/.013/.017/.026/.036/.046
nut - Graph Tech®
hardware color - Gold
NECK DIMENSIONS
Scale - 648mm/25.5"
Width - 42mm at NUT
Width - 57mm at 24F
Thickness - 20.5mm at 1F
Thickness - 22.5mm at 12F
Radius - 305mmR
Features
Roasted Maple fretboard w/Acrylic & Abalone block inlay
Heat-treatment treatment provides a well-balanced attack and tone and a rich sustain. In order to achieve supreme neck grip comfort, the fretboard edge is finished with a smooth curve.
Roasted Maple neck
Heat-treatment increases the wood's stability, durability, water resistance and tolerance of temperature changes.
DiMarzio® Notorious™ Pickups
Tim's custom DiMarzio® Notorious™ single coil pickups capture the dynamics of a vintage single coil tone, and Notorious™ minibucker bridge pickup moderate output to make great balance with single coils.
Gotoh® T1502 tremolo bridge
T1502 tremolo bridge features steel saddles and a die-cast zinc tremolo block for a quick response and improved articulation. The 10.5mm string spacing allows for easy picking across strings. Its snap-in construction makes it easy to load a tremolo arm.
Super All Access Neck Joint
The Super All Access Neck Joint offers superior playability with its 8mm concave curve from the body top to the spherical surface of the joint area. By maximizing the joint area between the body and the neck, sustain and resonance are increased as well.
Gotoh® MG-T locking machine heads
The Gotoh® MG-T locking machine heads achieve incredible tuning stability, cutting down string-changing time.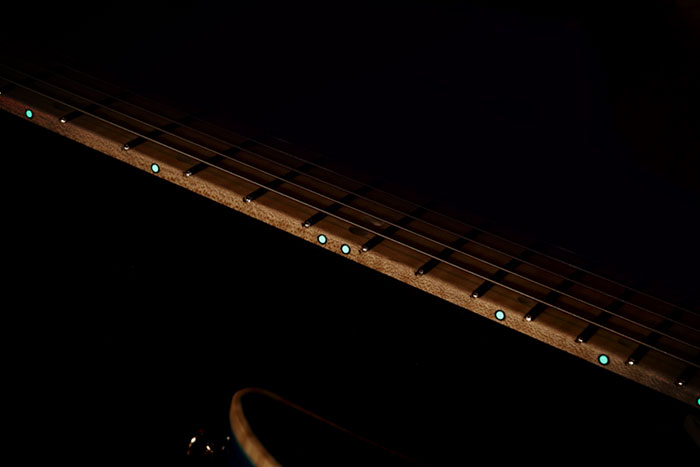 Luminescent side dot inlay
The luminescent side dot position marks make it easy for players to see fretboard position marks when performing on dark stages.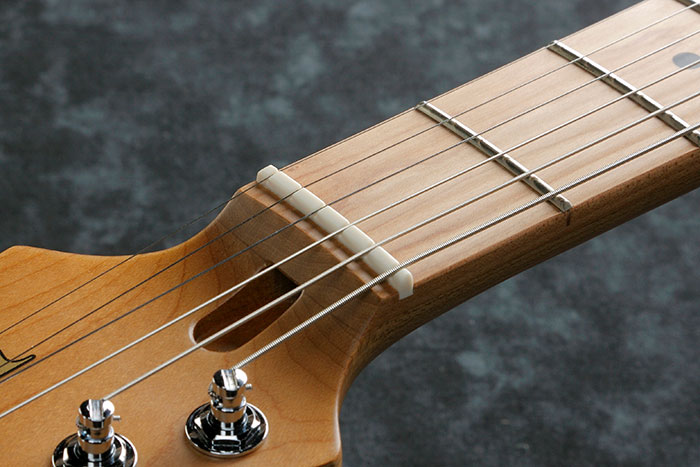 Graphtech® TUSQ XL nut/Stainless Frets
The super smooth Graph Tech® nut increases tuning stability, sustain and clarity of sound. Stainless steel frets boast excellent corrosion resistance. The wide and tall fret-type offers a quick response, good articulation when playing chords and clear tone when playing single notes.
Why buy from Melody Music Shop, LLC?
Located in Bloomington, Indiana, Melody Music Shop strives to maintain a diverse, high quality inventory along with exceptional customer service. We carry a wide range of instruments and accessories, including new and used guitars, band and orchestral instruments, pianos, amps, sound systems, and so much more!
With certified technicians on staff and a century + of experience between them all, you can rest assured any instrument you purchase from Melody Music Shop LLC is in the best condition possible! Our ENTIRE STORE is maintained at 50% humidity year round per manufacturer's stringent requirements. All items will be packaged carefully to ensure their safe arrival. Guitars will have their string tension lowered and packaged to manufacture specs or better. Melody Music Shop LLC guarantees quality products, fast shipping, and top-notch customer service!
Please contact us if you have any questions!
Layaway is an option!
Layaway items require an initial down payment of 25%.
Layaway items can be held here for up to 90 days.
A payment of 25% (or more) is due on the 30th, 60th, and 90th day from the layaway start date (although payments may be made before the scheduled due date).
The item will ship immediately following payment in full, which may be before the 90 day layaway period.
There are no returns on layaway items. There are no refunds of payments towards a layaway item.
Please contact us with any further questions regarding our layaway policy!
Shipping
Items purchased from our store will ship out within 1 business day of receiving payment. FedEX Ground or Home Delivery, fully insured, will be used for shipping instruments and large items. Items over $200 will require a signature. Accessories and other small items will be shipped via USPS Priority Mail.
Payment
Paypal
We accept PayPal and will only ship to confirmed ship-to addresses listed on the PayPal account.
Credit Cards
We accept Visa, Discover, Mastercard, and American Express. The shipping and billing address must match in order for us to ship the item to that address.
Payments via Reverb are safe and secure too!
Thank you for looking :)